Church Farm, a Grade II listed Georgian farmstead, nestles alongside the historic 11th century Norman church in the tiny village of Alsop-en-le-Dale. It sits at the head of one of the most beautiful but undiscovered dales in the Peak National Park and Derbyshire Dales. The church has a wonderful stained glass window which was designed to celebrate the millenium by Henry Craig, the renowned designer of stained glass windows in many of our best known Cathedrals.
On our farm we rear Gloucester Cattle, an ancient breed which were numerous in the Severn Vale from the 13th century, and whose milk was used to make the original Single and Double Gloucester cheese.
Our rare breed Gloucester Cattle are out and about from April to late October. Our visitors often join us on our walk through Flaxdale, their summer home, when we're checking our stock.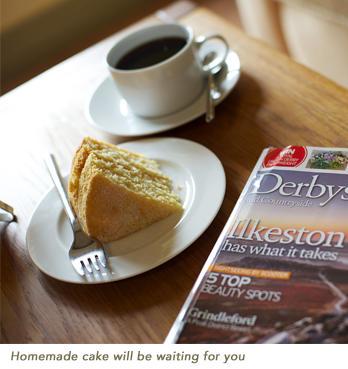 One of the farm hands is our Australian Kelpie dog called Chatsworth Mollie. She helps round up cattle and she's as soft as a brush! She is guaranteed to entertain children if they throw a ball for her. Our two cats, Mango and Chutney, make up the team.
We often have a litter of Gloucester Old Spot or Tamworth pigs together with poultry to provide fresh eggs during the summer when they are laying.
For the young farmer visitor (18 months to 8 years), there are toy tractors available for them to ride around the farm yard.
Church Farm has been awarded the Peak District Environmental Quality Mark (EQM) for our environmental policies, which include our use of Solar Panels to produce electricity and the installation of a biomass boiler which provides all the heating and hot water for both farm and cottages.
In Church Farm's cosy and comfortable Peak District holiday cottages, Pinster and Winnets, you have the perfect base to explore the scenic Peak District National Park and Derbyshire Dales. A wonderful location for walking, cycling and climbing – you can be as energetic or as relaxed as you feel at Church Farm, a perfect location for the whole family.