I'm constantly told "you're so lucky!", why you may ask; well it's because I am so lucky to live in such a stunning part of the countryside. How would you like to share some of my luck? Step out of your everyday to relax and revitalise yourself? Well come and stay at Church Farm Holiday Cottages. It's really easy to get to, but not so easy to leave!
The holiday cottages are nestled in the small hamlet of Alsop-en-le-Dale and are the perfect place to walk from the door. In fact there are no less than five footpaths leaving the village…
What do a cloud, a reef knoll and some stepping stones all have in common? They are all part of my favourite autumn walk that I do with Tink the Terrier.
It's a beautiful circular walk from Church Farm Holiday Cottages down to Milldale and following the River Dove down to the famous stepping stones at Dovedale.
Of course taking time out for the compulsory paddle in the river and a bounce across the stepping stones, then on to the base of Thorpe Cloud.
Thorpe Cloud gets its name from the old English word 'cloud' which means hill. It is over 900ft tall and is classed as a reef knoll (an isolated dome‐like mass of limestone that has grown upwards from an active coral reef). The top is the perfect place to sit take in the views.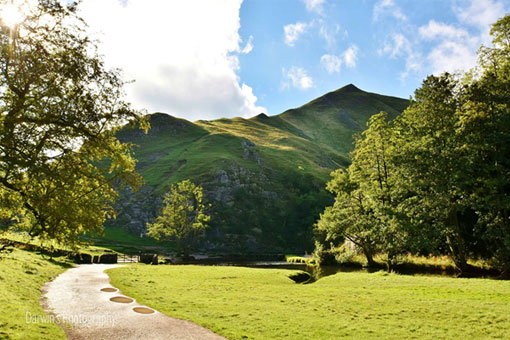 After view taking it's up through Lin Dale. Following the path that Robin Hood and his merry men galloped along in the Ridley Scott film version of Robin Hood.
Past the start of the Dovedale Dash (a 4 ¾ mile cross country race, which is held the first Sunday in November, that entails running across the River Dove and alongside the Manifold River) and into the picturesque village of Thorpe. There is always time for a drink in The Old Dog and even some of their delicious food, before heading across Thorpe pastures and along Gag Lane for the stroll back to the farm.
If you are unfortunate enough to come across some of our standard British weather fear not, as the cottages are well equipped to deal with it. We have an outdoor hosepipe to get the worst off and a fully equipped wash house with running hot water and a washing machine to cope with the finer details and not forgetting the drying room to dump everything in so your kit is dry, warm and toasty to hit the hills tomorrow!
Once all clean, head inside to the cosy cottage for a well-earned rest and a perfect post walk hot chocolate.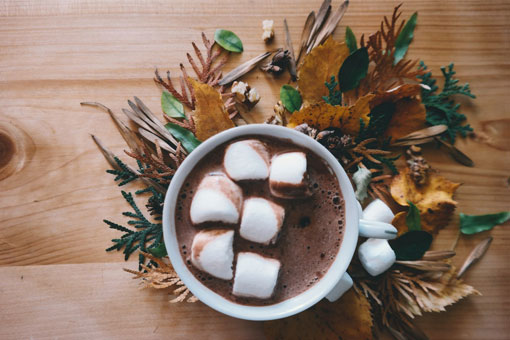 The perfect post walk hot chocolate
Enough for 2 mugs
Ingredients
300ml full fat milk
75ml double cream
50g dark chocolate chopped (and a little extra for grating)
Mini marshmallows
How to make it
Pour the milk, double cream and chopped chocolate into a pan. Bring gently to the boil, whisking until smooth. Pour into mugs and top with mini marshmallows and a little grated chocolate.